Troubleshooting Google Ads Smart Shopping Campaigns
You've set up a Smart Shopping campaign and have made it through the learning period. Huzzah! Hopefully, the initial results have been outstanding? However we all know that's not always the case, so we've put together a handy flowchart to help guide you with troubleshooting and scaling this campaign type.
Have the first few weeks of your campaign gone smoothly and to plan? Take a look at our top tips for ongoing Smart Shopping optimization!
Troubleshooting Flowchart
Follow the below flowchart to find your next step, then scroll down to see what steps you can take.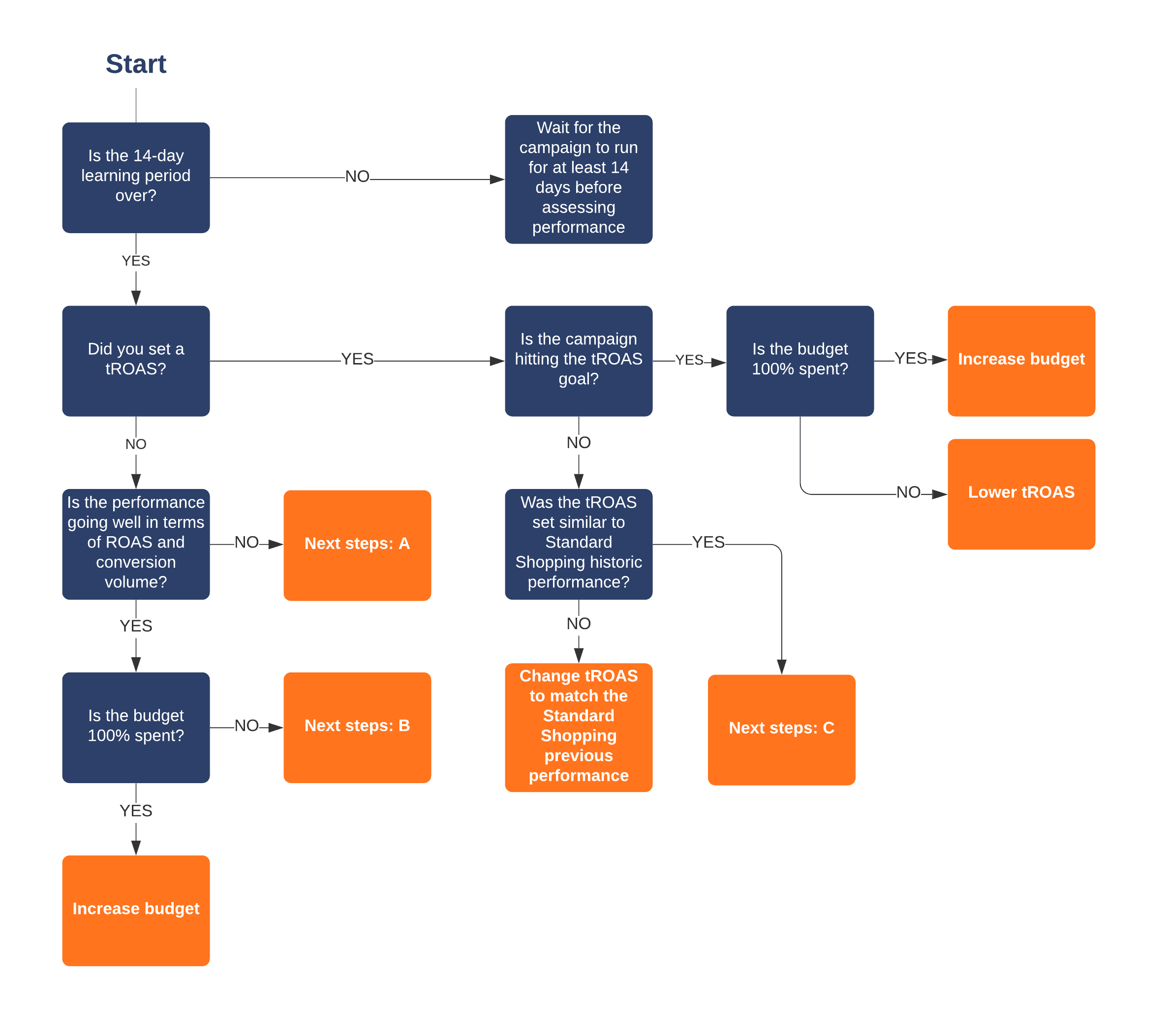 Next Steps: A
Your campaign has passed the learning period and has had a good volume of impressions, but the performance is not as strong as expected. Here's what you can do:
Consider setting a target ROAS in the campaign settings. If your current ROAS is lower than expected, set a higher ROAS target than the recent performance to try to improve performance moving forward.
Double-check if any changes were made during the learning period that can make the learning period start over.
How many products are targeted on this campaign? Automation works better with volume, so making sure the products and/or product category that is being targeted has a good volume of clicks/impressions.
Next Steps: B
Your campaign has passed the learning period, the performance is going well, but you need more volume. Here's what you can do:
Make sure your entire site is tagged to improve how often your ads are triggered, especially for the Google Display Network and YouTube.
Check to see if anything has changed in the competitive landscape. Have any new competitors entered the auction, have competitors increased their presence, or is there a hyper-competitive seasonal period approaching? If so, a lower ROAS target could be tested to improve how competitive your ads are in the auction.
If applicable, consider adding more products to the campaign.
Next Steps: C
Your campaign has passed the learning period, the tROAS set is similar to the historic performance, but the Smart Shopping campaign performance is subpar. Here's what you can do:
If you're interested in more information about any of the tips above, reach out to us or book a demo – we're here to help!